George & Lucretia Corliss

As detailed in my book, Ebey;s Landing, George and Lucretia Corliss were present at the time that Captain Isaac Ebey was murdered. It is said that they were able to climb out of windows in order to escape the attack. Afterward, they moved to California.
Why did the story interest me? I have been intrigued by the Ebey murder since I first learned about it in my 9th grade history class with Mr. Grigsby while living on Whidbey Island. Also, one of my maternal great-grandmothers (Ethel Phelan Cain) was a Phelps through her mother's line and Lucretia's grandmother was a Phelps so there is the wonder as to whether the two lines are related.
Another Palmer in this story is Emily Palmer Sconce Bell, the widow of Captain Isaac Ebey.
Also, this story was intriguing because it had so many ties to witchcraft and possibly a curse.
While I am still tracing the connections, for some reason Charles Palmer
Lucretia's brother, Holden, went on to marry the woman who would become a Western Washington pioneer, Phoebe Judson. Like Jacob Ebey, Phoebe saw the execution of a Native American. Her brother William (along with Lucretia) is said to have somehow witnessed the Ward Massacre but as far as I know there were only two teenage survivors and those were Wards.
So how did the Ebeys of Missouri know the Judson and Corliss families of Ohio? Because the Ebeys were former residents of the Dublin, Ohio area. And one of Ebey's orphaned sons would go on to marry into the Judson family.

There are differing and conflicting reports from the night Ebey died in 1857, which I detail in my book. However, what is agreed upon is that both George and Lucretia soon left for the Santa Barbara area. Also known is that on January 9, 1864, both George and Lucretia Corliss were brutally murdered. What I found even more odd were those vying to inherit their estate. While I am unaware if they owed money, the litigants for probate included Cordero, Hollister, and a Corliss descendant. It does not appear that the Judson family filed to inherit the property.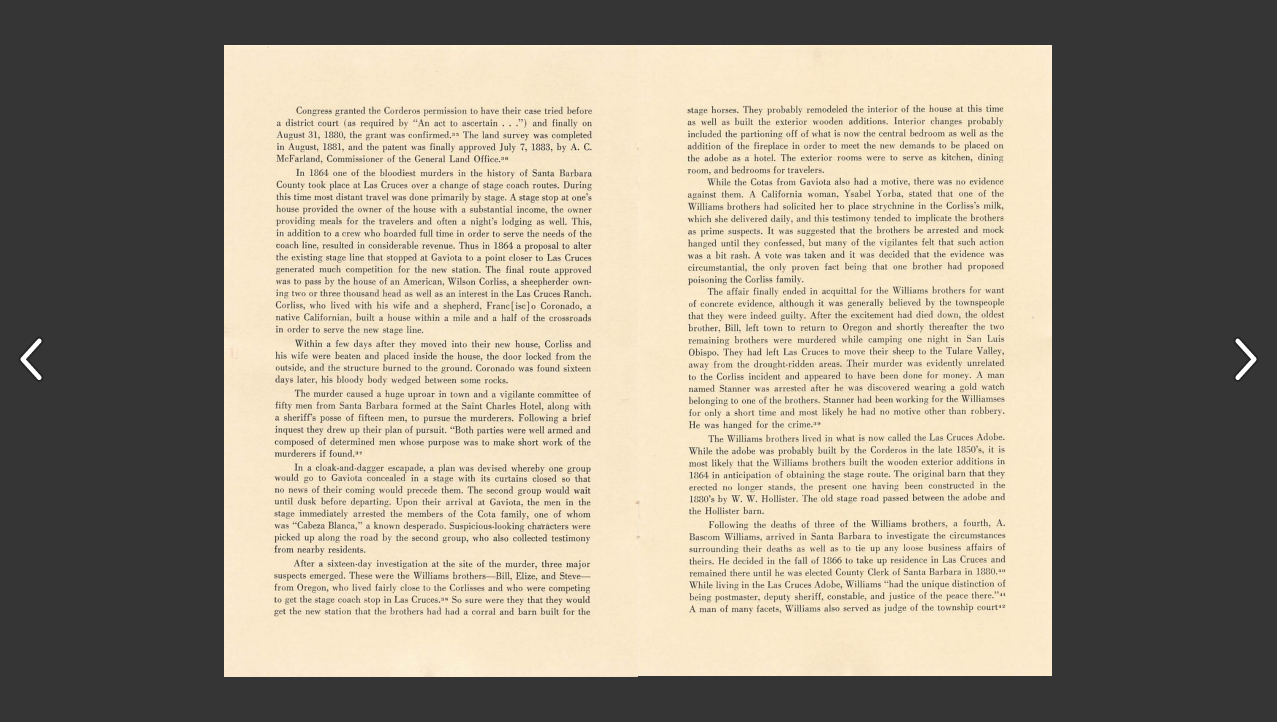 The year 1864 was particularly tough for the region and was especially hard for native tribes and Mexicans in the area. This has been floated as a possible motive for the attack.
Another motive might have been the land that the Corliss couple held. hey had positioned themselves as the key stagecoach stop and stood to earn a great deal of money.
For my book, Ebey's Landing, a major the clue to the killing is the partial scalping of the shepherd/helper they had employed.
https://www.kcet.org/shows/tending-the-wild/untold-history-the-survival-of-californias-indians
Some family names associated with George Corliss (though there were multiple entries for George Corliss across the country at the time).